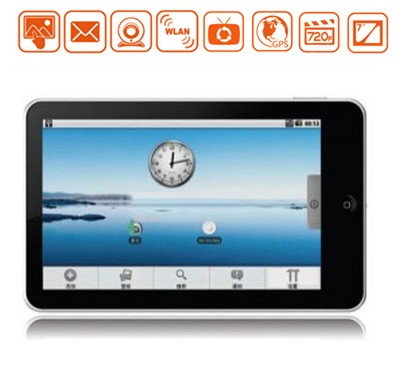 After spending your hard earned money on this craplet, lets start making it a true android tablet that can do some task, like surfing the net, playing 2d and some 3D games, and others.
1. Flash your apad
with a faster ROM like Uberoid, or stick with that OEM chinese ROM with a none working app market if your a sissy.
2. Facebook and Twitter
Select to import data on your existing contacts. Pictures and other address data are automagically added to your contacts.

Set Facebook and Twitter to update once every 4 hrs to prevent your friends from draining your battery. The Facebook sync setting could be in Contacts>Settings>Accounts or in the app itself.
3.
Home Screen (if you didn't flash)
Install ADW launcher to get a better home screen.

Select ADW launcher to open by default when the Home button is pressed.

Set the number of screens to 3 and apps to scroll vertically. Thats feels a lot better on the 7" wm8650 Apad

Set desktop rows to 5. Theres a lot more screenspace on large screen tablets.

Select fade app labels for some nice animation.

If you want to reset the launcher for any reason, browse to Settings>Manage apps>ADW launcher> Reset defaults.
4. Home Screen Widgets
Install Beautiful widgets, one of the best Time and Weather widgets.
Try out some clock skins and pick the one you like.
Tap on Time to open alarm, Date to open calendar and Weather to open a nice animated weather widget.
You might want to place Power Control, an android standard widget, on your home screen and have better control over your battery.
5. Change Backgrounds
Install Timerrific
There are apps that use battery levels to change settings automatically, like Tasker and Power Manager
Timerrific is better though. It changes settings based on time/day and is nice to the battery.
Now you can set the phone to vibrate at office/school and turn off WiFi when not at home.
And if you have those new Apads with built-in simcard slots, install No Signal Alert, so you don't miss important calls. Your phone will let you know if it looses signal.
7. Don't type, scan (or write)
Voice Actions from Google gets you what you want. Just say it.
Send text messages,
Get directions,
Call contacts,
View map,
Write a note,
Listen to music,
Call a business,
Send email,
Go to websites or
Just search Google.
9. Camera applications
Camera 360 does advanced effects as reviewed, but Photofunia is even better. Photofunia uses face detection technology to add a face to another picture. Select a photo with well lit frontal face (a good example is your passport photo) and you are all set.
10. Install a better keyboard
Hackers keyboard would be great for apad, large screen, accomodates a qwerty keyboard, that can type my blog's address on that dolphin explorer.